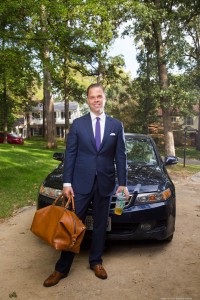 Via St. Louis Business Journal
Gregg Keller's first foray into politics entailed taking out the trash and answering phones for a $19,500 salary. He was hooked.
Fast forward a few years and Keller found himself working on multimillion-dollar presidential campaigns, including for George W. Bush, Mitt Romney, John McCain, Jim Talent and most recently, for Wisconsin Gov. Scott Walker.
Where you can find Gregg Keller
Weightlifting – 32 sets of circuit-style lifting with free weights in 30 minutes – at 6 a.m. at the Center of Clayton
Sipping green tea at Starbucks in Ladue
Flying out of Lambert-St. Louis International Airport to Washington, D.C.
Walking along Ladue Road, smoking a cigar, while on a conference call
Watching his three kids play soccer on the weekends
Enjoying a weekly date night with his wife, Lorie, at Truffles
---
The public affairs professional said he moved quickly through the political management ranks by virtue of the field itself — each two-year election cycle brought another opportunity to work on a higher profile campaign. But his success also can be attributed to his self-proclaimed Type A personality. "When it comes to a task, I either don't do anything at all, or I do it in a way that is ruthlessly Type A and efficient," Keller, 38, said.
After directing a national coalitions program — managing 21 groups in 20 states — for a presidential campaign, managing a U.S. Senate campaign and leading two national public policy organizations, Keller launched his own strategic services firm, putting his expertise in coalition-building, strategic consulting, fundraising and communications to work for Fortune 500 companies and political campaigns. Dubbed Atlas Strategy Group, Keller has run the company out of his home office in Ladue since January of 2014.
Keller has gone from one success to another, said former Missouri Sen. Jim Talent. "He brings something no one else brings to the table – his drive, energy and organizational ability. I don't think he's ever had a job where he hasn't exceeded all expectations." Though Keller has spent much of his career commuting to Washington, D.C., and Boston — as many as 200 flights a year — St. Louis has remained his home base. "My wife, Lorie, and I are high school sweethearts. We met sophomore year at Clayton High School, and we always knew we wanted to raise our family in St. Louis," said Keller, who has three kids: Bobby, 10; Eleanor, 8; and Elizabeth, 4.
How did you begin working in politics? My father told me former CongressmanJim Talent was thinking of running for Senate, and said, 'Why don't you go see if you can volunteer for him?' So I started volunteering on Talent's Senate exploratory committee in September 2001; and within a week, they offered me a position. First, I started taking out the trash and answering phones. Eventually, they put me on the road to travel with Sen. Talent as his body man — the person who travels with the candidate at all times and serves as his personal assistant. I had a fantastic crash course in Missouri politics. Sen. Talent visited all 114 of Missouri's counties. We did 78 trips to Springfield for campaign appearances alone. We went to every corner of the state, clocking 18-hour days, for what turned out to be a top-targeted, winning U.S. Senate campaign, which, to this day, is one of the most fun experiences I've ever had in my life.
What was the next step in your career? I really had the campaign bug in me, and I was asked to join the Bush-Cheney campaign in 2004 — back when Missouri was the swing of swing states. I was their coalitions director … and then the communications director. We were able to push the John Kerry campaign out of Missouri by September 2004. Then they sent me to New Hampshire, where I headed up the Election Day operations and oversaw their legal team.
Tell us more about your work with former Missouri Sen. Talent. Sen. Talentasked me to come back to his staff in 2005 as his state director. Then he was up for re-election in 2006, and he asked me to be campaign manager. Sen. Talentran what political analyst Stuart Rothenberg (founding editor and publisher of The Rothenberg & Gonzales Political Report — a non-partisan political newsletter) called the best-run incumbent campaign of the cycle that year. Yet because it was such a horrible year, he lost anyway by a small margin. Although I was the manager of a losing campaign, because it was widely respected, it didn't hurt my career at all. In some ways, losing was the best thing that ever happened in my career, oddly enough. Even after losing the campaign, I received multiple job offers to run senatorial and presidential campaigns, and decided to accept the offer to be the national coalitions director for Mitt Romney's presidential campaign.
Describe your role with Mitt Romney's presidential campaign.(After Sen. Talent's 2006 campaign,) I ended up getting an offer from Mitt Romney. He asked me to be his national coalitions director in Boston, so I commuted there from St. Louis. I was responsible for his campaign's outreach to everything from conservatives, social conservatives and free-market conservatives to the Hispanic and small-business communities. We organized 20 coalition groups in 21 states. Next, I was senior adviser on John McCain's 2008 Missouri campaign. Then, I started getting into this niche where so much of what I did on Gov. Romney's campaign was outreach to the conservative community. I've always been a conservative. I remember being in grade school and always being glad when Newsweek would arrive at our house so I could immediately flip to the back to read George Will's column. I was 10 years old, and I didn't even know what a conservative was — I just knew I was one. I did my senior thesis in English on Ayn Rand because by the time I was 15 I had read every book she'd ever written. So I've always intellectually been a conservative, but it wasn't until the Romney campaign that I had a job where I focused primarily on outreach to the conservative community. The majority of what I did for Romney was turn him into what he eventually became in the 2008 cycle — the conservative alternative to John McCain.
Discuss your work leading national conservative organizations. I became recognized as someone who could build a conservative coalition. In 2009, I started getting invited to run these national conservative organizations. Someone who I had gotten to know over the years was Ralph Reed of Christian Coalition fame. He was launching the Faith & Freedom Coalition headquartered in Atlanta and asked me to help. So I commuted to Atlanta and did the 2010 election cycle as its national executive director. We participated in 111 races across the country and made nearly 60 million voter contacts. Then I was asked to be the executive director of the American Conservative Union, the national conservative movement's umbrella group, which puts on the Conservative Political Action Conference. So I commuted to Washington, D.C., for that job from 2011 to 2013.
Tell us about your firm, Atlas Strategy Group. I had been commuting almost non-stop since 2007, and wanted to spend more time with my family at home in St. Louis. So I started my firm, Atlas Strategy Group. And I've really continued doing what I had done for about 10 years at the highest levels of American politics, which is what's called center-right coalition-building. For example, let's say you are AT&T, and there's a bill moving through the U.S. Senate judiciary committee that you believe is bad public policy and that is going to adversely affect your company. Traditionally, what companies and trade associations have done in the past to affect the kind of legislative end that they want to reach is three things: hire lobbyists, join a trade association, and form a political action committee to support the candidates who believe what they believe. These days, doing those three things is really only enough to keep even with the herd. What I do at Atlas is additive to that. I get hired by trade associations and Fortune 500 companies to convince the third-party center-right public policy organizations in Washington, D.C., that this bill moving through the U.S. Senate judiciary committee is antithetical with free-market ideology. This is a growing part of American public policy relations. What I've built my business around is strategic partnerships, so I have a strategic partnership with a firm that works exclusively with social conservative organizations, a partner in Washington, D.C., that focuses on fiscally free-marketing conservative organizations, and even a partner out of Texas that does center-left outreach. I'm keeping my firm small and working through strategic partnerships with other small firms so that I don't have to charge my clients the big-firm rates. The other part of my business is political, so I have worked on four presidential campaigns in the center-right conservative space: Bush-Cheney, 2004; Romney, 2007; McCain, 2008; and I was senior adviser to Scott Walker's presidential campaign that recently wrapped up.
What is your most memorable career experience? There are so many pinch-me moments — standing in the same room as the president of the United States, talking to the president, the president asking you a question. I've met presidentsGeorge W. Bush and George H.W. Bush. With the exception of the entertainment industry, politics allows you to accumulate these pinch-me moments much faster than other professions. They say politics is Hollywood for ugly people. Just today, a governor called me to ask for advice. No matter how long you do this — or at how high a level — it's still a thrill.